Child Care Facilities
Any facility or location where care is provided to three or more children, not related by blood or marriage, or not a sibling group, is considered a Community Care Facility and requires a licence.
The types of licensed child care facilities include: Group Day Care (Under 36 Months), Group Day Care (30 Months to School Age). Preschool (30 Months to School Age), Group Child Care (School Age), Family Child Care, Occasional Child Care, Multi-Age Child Care, and In-Home Multi-Age Child Care.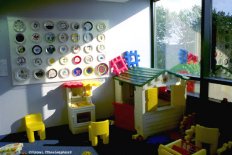 Licensed child care facilities are inspected on a regular basis to ensure compliance with the Community Care and Assisted Living Act to determine if minimum standards are being followed with respect to staff qualifications, criminal record checks, supervision, staff-to-child ratios, programming (for physical, intellectual, language, emotional & social development), furnishings & equipment, childcare records, and other requirements. In addition, follow up is done in response to complaints, allegations of abuse, and reportable incidents.
Licensing Officers pay particular attention to ensure that children are cared for in a healthy and safe environment.
Fraser Health does not inspect those child care settings where a licence is not required.
Updated November 24 2009